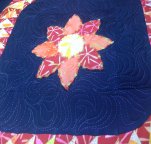 Here are some close up of Free Hand work. If you can draw it we can quilt it. Look at the photos below of some of the work that is done on the Statler Stitcher.

Here is a motif that is perfect for this small border.
STATLER Machine for computer guided quilting.
Wide quilt backs and batting are also offered in the shop for your convenience. Batting available is 80/20% cotton polyester, 100% polyester, 100% washable wool and 80/20% silk and polyester blend. All batting is durable and washable and will give you many years of use.